September 11, 2001 & AdoptAStation
Art: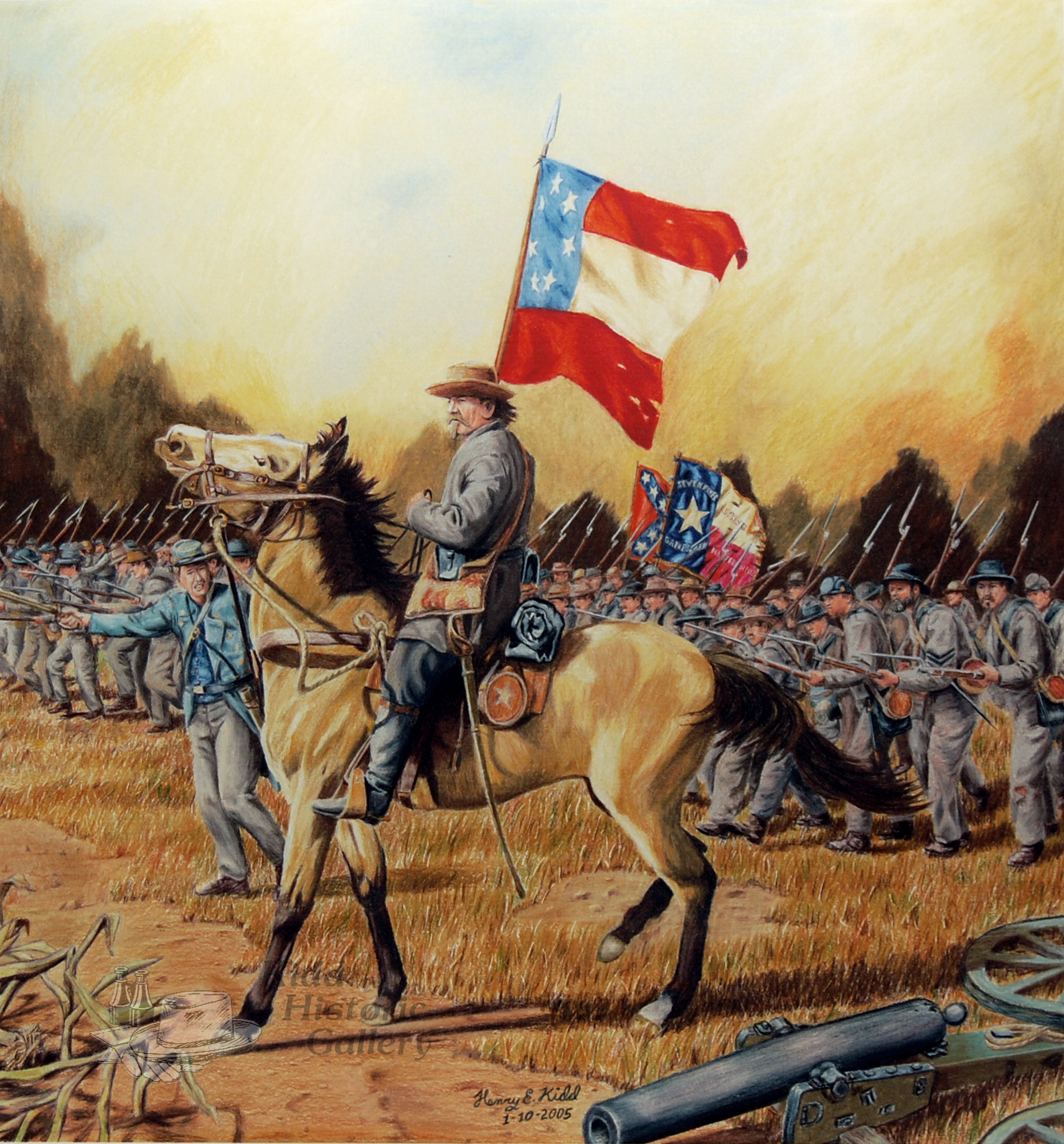 1st Texas
Sharpsburg, Maryland
by Henry E. Kidd
On the morning of September 17, 1862 after fighting and marching for three days in the hills of Maryland, Hood's Texas Brigade settled into the woods behind Mumma Church for the purpose of cooking rations. This was the first food the men had received in three days. As soon as the cooking fires were started and the corn meal emptied into the skillets, a courier arrived from General Hood with orders for the brigade to immediately form a line of battle and push the Yankees out of a cornfield.
Cursing and swearing over the loss of their breakfast, the men of the 1st Texas grabbed their muskets and headed for battle. The Yankees were going to pay dearly for interrupting their meal. The 1st Texas was on the right flank of the brigade as they entered the cornfield.
Brigade Commander, Col. W. T. Wofford described the action in his report to headquarters, "Seeing Hampton's Legion and Eighteenth Georgia moving slowly forward, but rapidly firing, I rode hastily to them, urging them forward, when I saw two full regiments, one in their front and the other partly to their left. Perceiving at once that they were in danger of being cut off, I ordered the First Texas to move by the left flank to their relief, which they did in a rapid and gallant manner. By this time, the enemy on our left having commenced falling back, the First Texas pressed them rapidly to their guns, which now poured into them a fire on their right flank, center, and left flank from three different batteries, before which their well-formed line was cut down and scattered; being 200 yards in front of our line, their situation was most critical."
The 1st Texas slowed the Union advance. In doing so, they lost their flags, 9 color-bearers and 186 of their 226 men in the Cornfield. They suffered 82.3% casualties, more than any regiment of either side during the war.