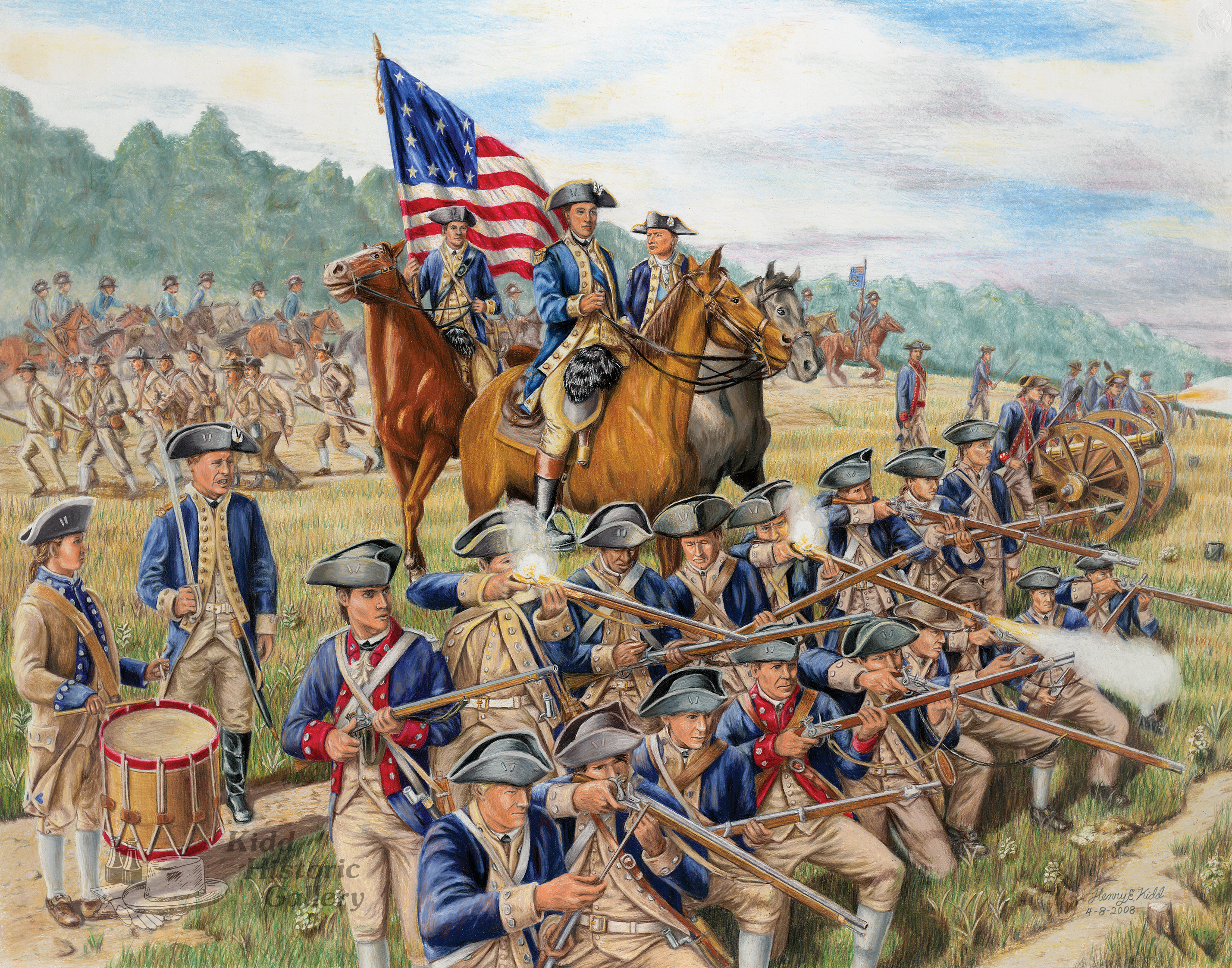 Colonials on the Heights
When the British Army invaded Virginia, early in 1781, General Lafayette, with 1,200 men of the Continental Army, were sent from the New England to aide in the state's defense. The troops were in dire need of equipped. Many of them lacked hats, shoes and proper uniforms. In Baltimore Lafayette purchased clothes and equipments for his men and paid for them with drafts on the French treasury. Although most of his army was made up of infantry, Lafayette also commanded three companies of mounted dragoons, six pieces of artillery, and one company of riflemen with rifled muskets.
Richmond and the destruction of its' military supplies were the main targets of the British. Their plan was foiled when Lafayette appeared on the heights above the Appomattox River on April 29. Skirmishing lasted for weeks as Lafayette prevented British Generals Arnold and Phillips from crossing the river. General Phillips was suddenly seized with fever, and died on May 13. This left Arnold in sole command until Lord Cornwallis arrived from his defeat in Guilford, North Carolina with his army on May 20. The British Army now numbered 5,000 men.
Realizing he could not withstand a full assault of such an overwhelming army, Lafayette withdrew toward Fredericksburg. Cornwallis pursued and wrote in a dispatch, "The boy cannot escape me." However,Lafayette continued to harass Cornwallis and defeated most of his plans in Virginia throughout the summer. On June 20, General Steuben reinforced Lafayette. Finally outnumbering the British, he forced them to retreat toward Yorktown where Cornwallis thought he would receive reinforcements. General George Washington finally arrived on September 14 with the rest of the Continental Army. Just one month later Cornwallis surrendered.
General Lafayette and the Colonials on the Heights played a major role in the defeat of the British Army, thus insuring the independence and freedom of the United States of America.

The City of Colonial Heights, Virginia was incorporated in 1948. To celebrate its Sixtieth Anniversary, the City Council commissioned artist Henry Kidd to research and recreate the historical moment where the City derived its' name.